So this is my sweet friend
Ashely
: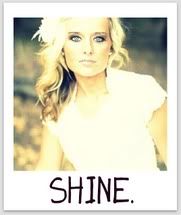 I'll let her tell you how this all started on her blog
here
.
Each week Ashley issues to us a "Shine Challenge".
All requiring the reader to step just slightly outside of their comfort zone
and getting to know, helping, caring for others.
Last week during Earth week our challenge was to give back to
this most beautiful creation we live on.
I found out at the beginning of the week that Lowes was offering to
give away 1 MILLION trees.
I was ALL over that! FREE TREES y'all!
Here we are doing our Shine Challenge
A bit late, but we were waiting for a good day.
A with his tree!
Sweet thing trying to figure out what it is..
The beginning of life... tree life anyway.
Daddy got the soil ready and fertilized.
The trees even came with instructions.
A put his in!
And then watched it grow for a bit! So sweet!
And then it was little miss's turn...
new life and new life?
It was so fun to see the kids get so excited to "grow" something.
After about a year those will join our yard and something else will grow in their pots.
Who knows... maybe even more free trees from Lowes.
The Shine Project also has adorable necklaces and t shirts to get the word out and remind you to SHINE!
Now for my terrible WIW...
It seems like EVERY Wednesday I dress terribly, but here are my favorite parts...
that I paired with matching bud earrings.
and my fav. sandals again, though the more
I wear them the more I need special camera settings
so you can't see what bad shape they are in...
Jeans from American Eagle in 2006... yes 5 year old jeans!




Keyhole sandals from gojane.com
Be willing to shine and love our earth every day!
xoxo
Courtney